ABOUT KINDERMUSIK WITH LOVE STUDIOS
LET IT BEGIN WITH
KINDERMUSIK®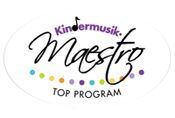 Kindermusik With Love Studios is proud to have been awarded Top Programme Status since 2013 by Kindermusik International in recognition for our excellence. Besides being the top 1% of all Kindermusik programmes in the world, we have maintained our place of being amongst the top 3 studios internationally.
Thank you dear parents and children, for being a part of who we are. We will continue to give it our all and affirm the belief you have in us.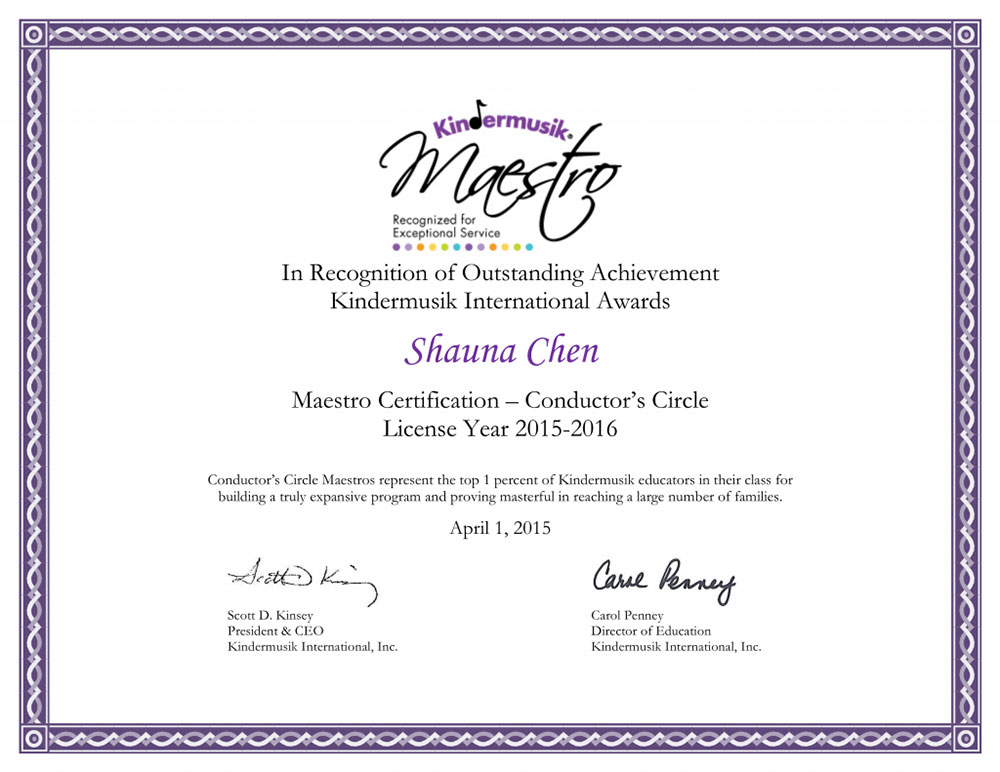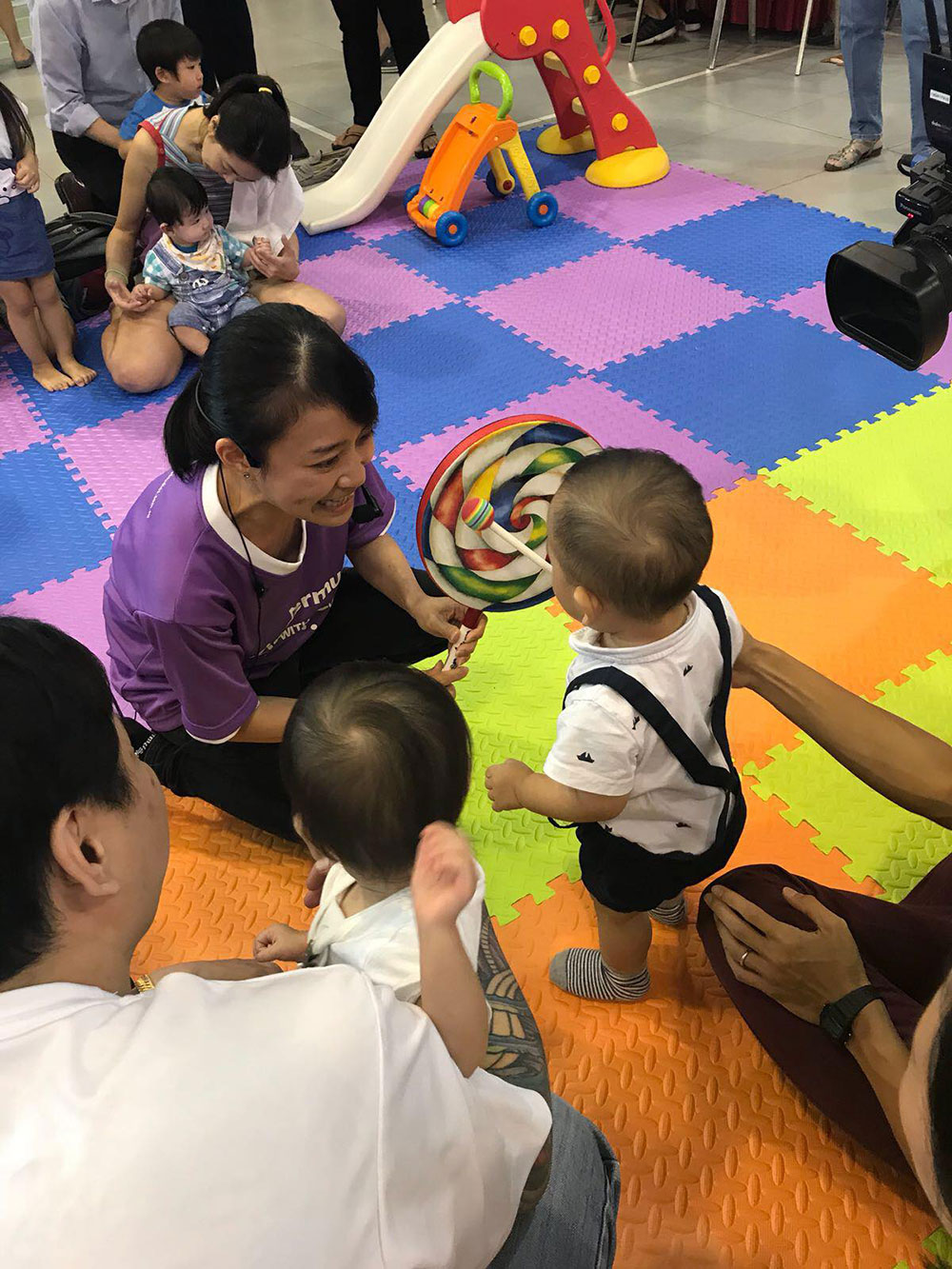 THE STUDIOS
At Kindermusik With Love studios, we pride ourselves in creating the most optimum environment for teaching. We are aware that our little ones tap on their immediate environment, both the physical and the human, for their learning.
OUR EQUIPMENTS
We equip ourselves with the highest quality music instruments. Kindermusik instruments are developmentally appropriate and rigorously tested against safety standards before they are handed over to tiny hands. Most importantly, they are capable of enriching our little one's ears with sounds of true musical beauty.
OUR BUILT ENVIRONMENT
At Kindermusik With Love Studios, we got down to the child's height to plan our space. We tried to simulate a comforting, yet stimulating, environment by considering sensory issues, comfort levels and safety.
We are parents ourselves and very cautious too! The instruments and carpet are sprayed down with plasma water, an industrial strength and safe steriliser. The air in the studio is infused with plasma water as well, which kills germs on contact. For more information, explore the system at http://kilgerms.com.sg
MEET OUR EDUCATORS
At Kindermusik With Love Studios, we hand-pick and conscientiously groom our treasured educators. All our educators are certified directly by the expert team in the USA and have undergone Kindermusik's screening and training in order to earn their Kindermusik License. Thereafter, we keep them going strong through our in-house trainings, industry seminars and workshops. They are closely guided by their mentor – Shauna Chen, one of Kindermusik's top educators.
Our educators are steeped in child development and music concepts. We learnt how music and movement contribute to children's growth, and how we can facilitate the process. We learnt how to tap into different learning styles and how to reach out to children of all profiles: infants and older children, the shy and the outgoing, as well as children with cognitive or physical limitations.
SHAUNA CHEN
Director / mentor
Shauna is Kindermusik and Kindermusik is Shauna. "Is today Teacher Shauna day?" children tend to ask. Every child loves their Kindermusik day in the week! Having entered the magical world of Kindermusik since 2006, her commitment and passion for the programme has grown and matured by leaps and bounds. Parents love her ability to customize every lesson for maximum fun and learning, and revel in the special connection she has with every child under her care. Kindermusik transforms learning and brings musical education to a whole new level. Talk to any one of the parents in Teacher Shauna's class to be convinced. Apart from attaining a Masters in Early Childhood Education, Shauna is also well versed in the Electronic Organ (Dip. with High Honours), completed Grade 8 Theory, accredited in piano and guitar, and also plays the erhu and violin for leisure. Get ready to be wowed and inspired every time you step into the studio! Shauna dedicates her energy into Kindermusik, for the children, for parents, for her team. Apart from managing her studios, Shauna has been appointed a mentor at Kindermusik University for International trainees. She is also an adjunct lecturer with several established educational institutions, imparting valuable musical skills to other educators in the field. From 2019, her dedication in Kindermusik is affirmed when she is offered the role of Master Franchisor for Kindermusik in Singapore. Kindermusik continues to benefit numerous children in Singapore through Shauna's whole-hearted nurture.
KIM KEE TAN
Senior educator / assistant mentor
Kim is a firm believer that music serves as a powerful platform for children to manifest their abilities on all fronts. Witnessing the growth of a child as they learn through music is her greatest motivation and her reason to reach out to even more children.
Kim is full of passion for teaching and being in her class certainly makes one feel her dedication.
Music as her first love, Kim achieved a Diploma in Pianoforte Performance with the London College of Music. With such expertise and love for teaching piano, Kim has since conducted private piano lessons for 4 years. Her institutional clients include Raffles Girls' school and St Anthony's Primary school over these years. Constantly developing and improving on her musical credentials, she picked up the Cello, Ukelele, and the Cajon and continued to teach children through the skills she has acquired. A passionate learner, Kim is always diving into pedagogy courses that can further enhance her skills as a Kindermusik educator.
Since joining the Kindermusik team, our Teacher Kim has finally discovered a beautiful balance in her passion and career!
KC (KRISTINA CINDY)
Senior educator
Music has always played a major role in KC's life. A natural singer and blessed with the voice like that of a Disney princess, she has participated and performed in musical theatres as young as 5 years of age. She has been with the Conservatory of Music at the University of St. Thomas, Philippines, majoring in Voice and minoring in Piano from 2002-2004. Not long after, due to her family's influence, she shifted to Health Sciences and completed a Bachelor's degree in Nursing. She worked in a medical setting for 2 years and spent most of her time in pediatric care. Although it was far from where music truly occurred, it was there that her love for children blossomed. Little did anyone expect that her two loves – music and children, will come together the day she entered Kindermusik!
KC is well-loved by her Kindermusik fans, little ones and grown-ups alike. A perfect role-model for our children with her beautiful singing voice. It is pure joy to the ears just sitting in Teacher KC's class!
ELAINE KUANG 
Educator / Deputy GM
Elaine is a classic example of how you have to take the plunge to know what you really need in your life. Having worked in the corporate world for the past 8 years, gaining valuable communication and interpersonal skills which translates well into the Kindermusik classroom, Elaine finally succumbed to her real calling when she entered our studios. One fine day, she witnessed a music and movement class and was struck by how the children are joyfully engaging with music, much unlike the piano practice that she grew up with. That stirred something in her to take the next step of joining our Kindermusik family.
Elaine's competent and diverse relational skills empowers her to establish that unique personal connection with both parents and students alike . She is diligent and strongly committed to what we do, quickly rising above the learning curve to be a stellar Kindermusik educator.
LULU LOH
Educator
Lulu has energy that overflows! She is fuelled when she is creating melodious harmonies with the children. And absolutely indulges in the warm environment that n she creates for the children, and in the moments when each child's creativity and individuality peeks through. Lulu believes that exposure to music at a young age makes for a confident and positive child. Through Kindermusik, she wants to help every child take their very first steps towards developing a life-long appreciation for the simple gift that is music.
Lulu began her musical journey at the tender age of 6, taking piano lessons and completing her graded examinations at a young age. Having decided that music will always be an indelible part of her life, she sought to continuously upgrade herself. She holds a LLCM from the London College of Music and has taught piano pedagogy for the past 10 years. Now with Kindermusik, we discovered Teacher Lulu's beautiful singing voice, yet another musical tool under her belt to engage with children musically.
ANDREA JOY ALINGALAN
Educator
Andrea was known by her family and peers as a performer even from an early age of 5. Her passion for the arts blossomed and nurtured throughout her developing years mainly in church, where she instinctively takes the tambourine for frequent dances! She subsequently learnt to play the guitar and the piano on her own becoming quite adept in these instruments. Everyone around Andrea subsequently realises she is quite a performing artist.
Music and the arts imparted on Andrea the value of expression and how it enhanced learning in everyone, especially children. She became a part of Kindermusik as a devoted educator, with the determination to ensure that all parents and children come out of her class smiling. We love Teacher Andrea for her creativity, controlled energy and fantastic engagement in class.
Andrea proceeded to pursue a Degree in Performance with a major in theatre from LASALLE College of the Arts.
EVON TANG LIYAN
Educator
Teacher Evon is well-loved by her students, they can't help giggling with her! Prior to joining the Kindermusik family, she graduated from Lasalle college of the arts and was a stage performer. She had the opportunity to teach drama to youths and that was when she found out teaching was one of her passion. Her favourite projects were always the ones for the youngest audience: Puppetry theatre shows, mall shows for children, drama camp etc. She soon realizes that she really loves children. She is always curious about their thought processes and finds herself interacting with them at every given chance. Her background in Theatre sculpted her into an animated, expressive teacher and thus bringing lots of life to her classes!
Teacher Evon thoroughly enjoys herself in class and is certainly not afraid of being silly. She believes for a child to enjoy and learn from the class, the teacher has to be committed in having fun too. She strongly believes that children can learn anything best through play, and Kindermusik is one of the best places to start!
DAWN ABIGAIL
Educator
Abigail has loved music ever since she can remember. With a natural connection, enjoyment and music talent, she knew she was made for music. With that, she went on to gain many experiences over the years.
Musical Abigail began playing the piano and Electone at the age of 3 and excelled in it with several distinctions in both ABRSM and Yamaha examinations. She has always deeply loved expressing herself through singing. The ambition to discover and widen her knowledge of contemporary music, propelled Abigail to further her studies in Lasalle College of The Arts both in the diploma and degree programme. She grew exponentially in her music, creativity and confidence, and has the roles of musician, singer, arranger, band director, songwriter under her belt.
Aside from music, Abigail has always loved children, and has a strong interest in child psychology and early childhood. From teaching keyboard to early childhood music, Abigail has abridged this love through music and movements where there is freedom for every child to express themselves, be developed and be nurtured. Abigail values her patience, ability to see beauty in everything and her sincere heart to embrace and affirm every bit of greatness in every child.
LOH SUE LYN
Educator
Since young, Sue Lyn knew that she adores children and wants to work with them. This made her go on to pursue a Diploma in Montessori and a Bachelor in Early Years Education.
With 9 years of experience working as a preschool teacher to children ages 18 months to 6 years old, Sue Lyn was able to appreciate, first hand, the importance of music in each child's development. From the perspective of an early childhood educator, this is an extremely inspiring revelation.
This enhanced her strong believe that music can develop a child holistically. Thus, Sue Lyn decided that she would like to specialise in Early Childhood Music and Movement and has since then embarked on this journey by attending many courses and workshops to enhance her knowledge and even has a specialised Associate Diploma in Early Childhood Music Teaching.
With her passion for the little ones and music, Sue Lyn is excited to spread the awareness that, for little children, music is more than just music.
CONSTANCE SEAH
Educator
Teacher Constance has always had a strong passion for music since childhood. Singing in the church choir and learning the piano formed much of her teenage years.
Academically, music, the Arts and teaching were her natural go-to faculties. She obtained the Trinity Guildhall Grade 8 Piano Performance Certificate, Diploma in Theatre, Certificate in Piano Pedagogy from Nanyang Academy of Fine Arts and a Specialist Certificate in Teaching and Learning Preschool Arts Education with Seed Institute in support of National Arts Council. Where can we find teacher Constance in her personal time? She is most likely attending music teaching workshops, master classes by renowned international pianists and sitting in public performances featuring acting, singing and piano.
Constance has a keen interest in supporting children with learning differences. She is convinced that music education is the way to go and aspires to educate through music in an inclusive learning environment.
ANGELINA CHANDRA
Educator
ISABEL GRAVES
Educator
Teacher Isabel is an experienced Early Childhood educator, equipped with Diploma in ECE. Armed with a passion for music, Kindermusik is her calling. Combining her beautiful singing voice, boundless energy in the early childhood classroom, as well as an open and calm vibe, Teacher Isabel's Kindermusik classes swell with wholesome engagements.
OUR ADJUNCT EDUCATORS
Once a Kindermusik educator, always a Kindermusik educator at heart.
FARHANA RIZAINI
Adjunct educator
Having been exposed to music since she was 4, Hana understands how much music can benefit one's life. She completed her ABRSM Grade 8 in piano and has since picked up the guitar for leisure. Hana's personal life motto is to always follow her heart and do what she loves. Hence, it was without much hesitation that she knew she wanted to deliver music to children. Upon completion of her Early Childhood Education degree in 2013, she joined Kindermusik, building an admirable batch of fans through her classes over the years.
In 2016. Hana purused her aspirations to become a Music Therapist by attaining her certification in New Zealand. Today she returned as one! The look on a child's face when they respond to music is something that drives her to want to continue touching the lives of children through music for many years to come.
ABIE KURNIAWATI
Adjunct educator
7 years ago, teacher Abie went on a quest to seek out the best approaches in Early Childhood that can be applied towards raising her young sons and found Kindermusik. Since 2013, she has found joy and fulfilment in using music as her teaching tool. We love teacher Abie for her maternal warmth.